125TH Kentucky US Colored Troops – Civil War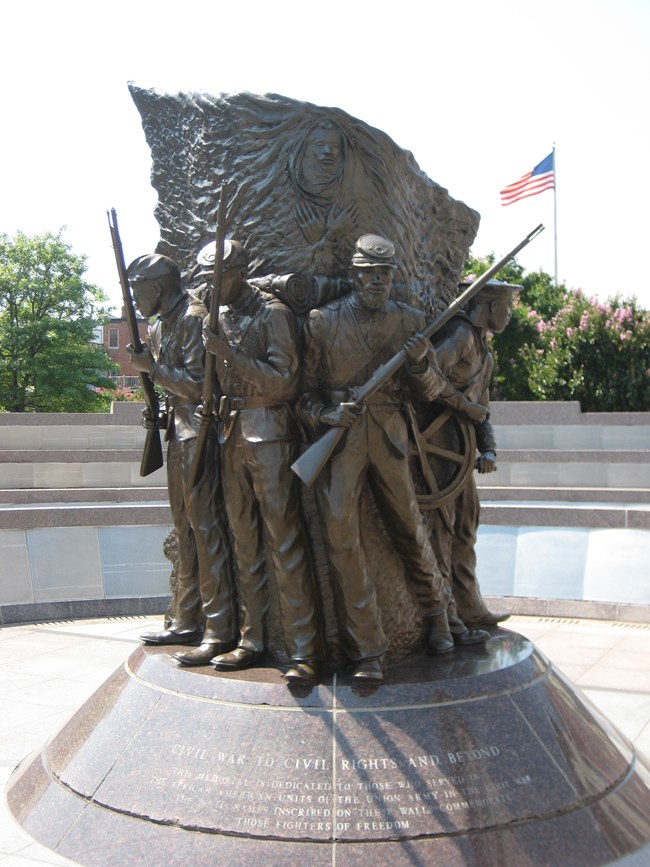 Photo from the National Park Service
AFRICAN-AMERICAN CIVIL WAR MONUMENT
WASHINGTON, DC
Thomas W. Penick: Lebanon's Black Civil War Veteran
A Biography
By Fran Hanchett
Introduction
When I was managing the Lebanon Historical Society's "Adopt a Civil War
Veteran" project, we would sometimes come across what we thought were
particularly interesting veterans. And when I discovered that one of our
veterans was originally from the south (Kentucky-born) and was black,
curiosity required investigating further. What follows is a summary of what I
learned about him and his family and his life in Lebanon, with substantial help
from Ed Ashey and Julie Couture of the Lebanon Historical Society, and a
special thanks to Tom Ledoux of the VT Civil War Website.

How the Penick Family Came to Lebanon
Thomas W. Penick was born into slavery in Green County KY in September
1830, a son of Jenny Keen. During the Civil War, he and his wife Mona, along
with their daughter Harriett, escaped and Thomas went to a Union Army
camp and asked to join their Army. He enlisted in the 125th Kentucky US
Colored Troops, and Thomas and his wife and daughter were assigned to
Captain Lorenzo Day where they cooked, did laundry and Thomas shined his
boots. Captain Day's wife, Amy Drew Day, was also with the regiment as a
nurse. Although the Granite State Free Press says, in Penick's obituary, that
he was brought to New Hampshire in 1864, this appears incorrect. Original
records of the 125th USCT show that he enlisted on April 22, 1865, in Lebanon
KY, and was mustered out of the Army on December 20, 1867.
At the end of the Civil War, black soldiers were formed into regiments, and
most were sent to serve out their terms on the western frontier, rather than
in the South during Reconstruction. Penick's records for September and
October of 1866 show him on detached service with the US Post Hospital at
Ft. Selden, NM Service Headquarters, and on October 20, 1866, he was on a
train to Ft. Bliss, TX – on extra duty at the Post Headquarters. The rest of his
service was spent as the Company Cook. The 125th USCT was the last unit to
muster out, and Penick's mustering-out papers were filled out in Leavenworth
Kansas on the same date as Captain Lorenzo Day's: December 20, 1867.
It is my belief that the Days and the Penicks all left Kansas and came straight
to Enfield together. (Winter of 1867/68).
A story about their arrival is that Captain Day pointed out a portion of snowcovered Mascoma Lake as they came through Enfield, and said to Thomas,
"see that big field over there; do you think you could mow it?" Thomas
replied that he could try. When spring came, of course it became clear that
the "field" was actually a lake – and for many years, the lake was called
"Captain Day's mowing."
When Thomas and Mona first came to the Upper Valley, they lived in Enfield
and Thomas worked in a tannery. Thomas was a taxpayer in Enfield from
1869 – 1873. After a few years in Enfield, the Penicks settled in East Lebanon,
in a house overlooking Mascoma Lake, where Thomas worked as a section
hand for the railroad.

The Penick Family's Life in Lebanon
In those days, local newspapers carried tidbits of information about local
people – what they were doing and where they were visiting. Below are notes
about Thomas Penick that appeared in the Granite State Free Press.
• December 26, 1890: "Thomas Penick was the first to discover a robin
who is wintering over here."
• December 25, 1891: "Thomas Penick killed the boss pig, 6 months old
and dressed 254 lbs."
• April 8, 1892: "Thomas Penick takes the cake catching rats, having
caught 32 in one night."
• June 27, 1892: "Thomas W. Penick of East Lebanon, a member of Post
52 GAR and the only colored veteran in this vicinity, has this week
received a pension of $8.00 per month, with $375.00 arrearages.
Thomas and Mona's daughter Harriett married several times and remained in
the south for many years. Her sons were adopted by her parents, however,
and came to live with them in East Lebanon, where they could get a level of
education that was not then available to black children in the south. Sadly, all
four of these children died relatively young.
The first of his grandchildren to die was Alfred Robinson Penick. He died April
10, 1875 at the age of 1 year and 15 days. The only thing we were able to find
out about little Albert is that he has a gravestone in the Penick plot and that
the City has a record of his burial.
Early Robinson was born in Greensburg, KY in 1878 to Richard Robinson and
Harriett Penick and died February 27, 1890. The obituary in the Granite State
Free Press of March 9,1890, noted that "Saturday last the friends of Mr. &
Mrs. Penick gathered at their home to attend the funeral of their grandson,
Early Robinson, who had been suffering through his short stay here on earth.
Carefully have his mother and grandparents tried to make his life easy and
happy." Early was 12 years old.
On October 4, 1894, another adopted son, Lorenzo Armstrong Penick, died.
The Granite State Free Press noted that Mr. Barnard of Boston, Mr. Todd of
Greenfield, MA, Miss Clark, Mrs. Lewis and Mr. Hazzard of Woodstock, VT
were in town to attend Lorenzo Armstrong's funeral.
Lorenzo's obituary appeared in the Granite State Free Press of October 12,
1894: "After months of suffering with that dreaded disease, consumption,
Lorenzo Armstrong passed away October 4th, at the home of his grandparents,
Mr. & Mrs. Thomas Penick. Everything that kind friends, money and the best
medical aid could do was done, but it was to no avail. The Father took him
home. He was one of the best of young men. In all of his life, we never heard
a word against him; and he was highly respected and always welcome to
every home here; for he was judged by his kind heart and morals instead of
color; and was called by all a nice young man and friend. With sorrow, this
community has mourned that he could not be spared. To the grandparents, it
seems doubly hard, for he has always felt it a duty of love to help them, for
they had taken him from the south, brought him up and educated him. When
he knew he must go, he mourned to think he must leave them, but he seemed
to get a glimpse of heaven and never wearied telling of the home Jesus had
for him; and he felt he was prepared to go, and ready to obey God's will. His
funeral was held in the chapel; Rev. N.F. Tilden speaking words of comfort to
the mother and others. His body was placed in Glenwood Cemetery with his
schoolmates acting as bearers. Many beautiful flowers were sent from
Woodstock, Boston and this village, as a token of love and esteem for
Lorenzo. His age was 27 years."
Through the regiment report on Lorenzo's father (Sgt. James Armstrong), we
learned that he was in the same company as Thomas. He was demoted on
October 17, 1867 for abusing and deserting Lorenzo's mother.
The last adopted grandson to die, Willie Alexander Robinson Penick, was born
1887 in Kentucky to Richard Robinson and Harriett and died in Lebanon on January 24, 1896 at the age of 9 years and 10 months. His obituary, from the
January 31, 1896 issue of the Granite State Free Press included this:
"The many friends of Mr. & Mrs. Thomas Penick give their sympathy to them
in the loss of their loved one, whom they have loved and tenderly cared for
since his infancy. For two years has this little one been wasting away, and
they have done all in their power to make him well, but of no avail. His work is
over, and he entered rest Saturday morning. His last words were blessings for
the dear ones and telling them to "live so to meet him in heaven."
The Granite State Free Press reported that In March of 1890, the Penick house
was to be removed by the railroad company to make room for more
sidetracks. In 1892, the Penicks bought a house from Andrew Sargent.
On July 3, 1896 the Free Press announced that Thomas had resigned from
"the section where he has faithfully labored for a quarter of a century. Mr.
Penick was a first-class railroad man and his many friends are sorry that his
health will not permit him to work. Much credit is due Mr. & Mrs. Penick, for
they were slaves, but by hard work they earned themselves a home, besides
giving a home to three grandchildren, who had lived and died with them.
Besides many kind deeds, they are Christian people, and among our best
citizens."
Thomas and Mona Penick's daughter Harriett came to live in Lebanon,
probably sometime in the late 1800's or early 1900s. We found that she
married Thomas Todd in Lebanon on Dec. 21 1890. She was later widowed
and met her final husband, Timothy Bresnehan, in Lebanon. They were
married in Lebanon in 1910 and at the time of their marriage, Timothy worked
in a mill and Harriett had a small store.
Thomas Penick died on July 12, 1906. His obituary in the Granite State Free
Press of July 20 reads as follows: "For months Mr. Thomas Penick has been
sick and his death has been daily expected, and his family and friends feel that
the Lord was kind to take him home, for he has been a great sufferer, and
waited to go to the life beyond; and last Thursday his life work was over. His
funeral was held at his home Saturday, Carroll Marston, of Lebanon taking
charge. Rev. Knapp spoke words of comfort. He was buried at Glenwood,
where he has many loved ones. Mr. Penick was better known as 'Uncle
Thomas' and probably no person was better known in this vicinity than he.
Uncle Thomas was a slave. He and his faithful wife 'Aunt Mona', came to
Thomas W. Penick: Lebanon's Black Civil War Veteran 6
Lebanon in 1864 and they have been among our very best for they have
always been honest and hardworking, and for the fruits of their labors, they
have a good home and the highest esteem of the entire community. Uncle
Thomas will be missed for he always had a kind word for all, and every person
was welcome to the home. Aunt Mona has the sympathy of all in her sorrow,
which she bears with Christian fortitude for they, while slaves, gave their
hearts to the Master's keeping, and have always tried to keep near Him, and
they will have the works: 'Well done, good and faithful ones,' With sympathy
for Aunt Mona in her sorrow, we feel the Lord was kind to call the suffering
one home, and may she ever be blessed for the tender love and care she gave
Uncle Thomas as he was going down the Valley across the river of light into
the Holy city where he has a home."
Mona Penick died on February 11, 1915. Her obituary in the Granite State
Free Press, February 12, 1915 reads: "Mrs. Mona Penick, widow of the late
Thomas Penick, passed on Thursday morning at the home of her daughter,
Mrs. Harriett Bresnehan, at Mascoma. Mrs. Penick was one of our most
respected women and loved by all, and "Mammy," as she was called by all,
will be lovingly remembered by young and old. Mrs. Penick was a slave and
sold many times. She and Mr. Penick were brought here during the war, and
by economy and upright living, they had a dear little home on the lakeside,
and we know she entered the rest she has been trying to gain for she was a
Christian woman, giving aid to all, and no one was turned away from her door.
Her daughter and husband have done all that could be done to keep the
Mammy we all loved so well, but of no avail, and she has left us, after serving
100 years faithfully and her memory is blessed by kind deeds and words of
love that she gave to all."
Harriett, the last member of the Penick family, born about 1850 in Greensburg
KY, died in Lebanon on April 24, 1918. The Granite State Free Press said in the
April 12, 1918 issue, that she "had been quite sick and under a doctor's care."
Her obituary in the Granite State Free Press, April 26, 1918, says only "Mrs.
Harriett Todd Bresnehan died very suddenly of Heart Failure on Wednesday."
She is buried in the family plot in Glenwood Cemetery.
Julie Couture, Ed Ashey and I would like to acknowledge Stephanie Jackson's
editing help in creating a writeup of our research.
On the following pages are photographs of members of the Penick family,
from the Lebanon Historical Society Archives.
RESOURCES
Granite State Free Press:
3.9.1890, 3.28.1890, 12.26.1890, 12.26.1891, 4.8.1892, 6.27.1892, 10.4.1894, 10.12.1894, 10.12.1894, 1.31.1896, 7.3.1896, 7.20.1896, 7.20.1906, 2.12.1915, 4.12.1918, 4.26.1918,
US Census Records:
1870 Enfield, NH
1880 Lebanon, NH
1890 Civil War Veterans Census
1900 Lebanon, NH
1910 Lebanon, NH
Vital Records: City of Lebanon
Records and notes from the Enfield and Lebanon Historical Society archives
Ancestry.com
Familysearch.org
"Kentucky's United States Colored Troops" by John R. Trowbridge – Archivist, Kentucky Historical Society, Frankfort, Kentucky
National Park Service: The Civil War Soldiers and Sailors Database
US Civil War Veterans Service Records for the 125th US Colored Troops

© Lebanon NH Historical Society, 2020